Low varieties up to 20 cm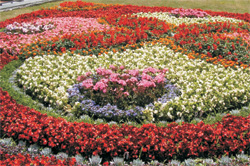 An egg-shaped plant, well-branched. Specially cultivated for resistance to climatic conditions. Excellent results both in hot sunny weather and during rainy summers. Plants have a self-cleaning ability, there is no need to remove past blossoms or ovaries, continuous flowering until frosts. We recommend you plant 30-35 plants in one square metre.
Varieties with green foliage, plant height up to 20 cm
E023 Olomouc F1
white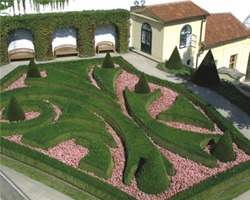 E024 Lučenec F1
bicolour, white flowers with bright rose red edge
E025 Boušín F1
soft pink
E026 Padolí F1
pink
E027 Podkrkonoší F1
rose red
E028 Skalka F1
red
E816 Tango Red F1
height 18 cm, early, spreading, free flowering, green foliage, large flowers, bright colour shade, ideal for production of flower seedlings, remains compact, resistant
Varieties with bronze-brown foliage, plant height up to 20 cm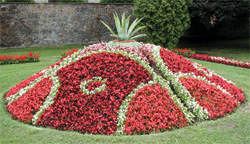 E029 Ostaš F1
white
E030 Náchod F1
bicolour, white flower with distinctive rose red edge
E031 Strahov F1
pale pink
E032 Oreb F1
dark pink
E033 Broumov F1
red
E034 Mixture of varieties F1
mixture of varieties with green and bronze-brown foliage
Varieties of medium height, 25-30 cm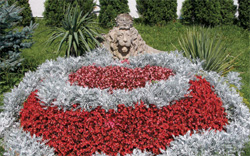 Well-branched plants, very weather-resistant, free flowering during the whole season until the first frosts. A group of impressive varieties specially cultivated for more extensive planting in places of importance, parks, historical gardens etc.
If you plant 25-30 plants in one square metre they get tangled and create a uniform colourful ground cover of balanced height.
Varieties with green foliage, plant height 25-30 cm
E035 Variace F1 White
E036 Variace F1 Clear Pink
E037 Variace F1 Deep Pink
E038 Variace F1 Bicolour Pink and White
white flower with distinctive rose red edge
E039 Variace F1 Scarlet Red
Varieties with bronze-brown foliage, plant height 25-30 cm
E040 Akord F1 Clear Pink
E041 Akord F1 Deep Pink
E042 Akord F1 Scarlet Red