"Aphrodite F1"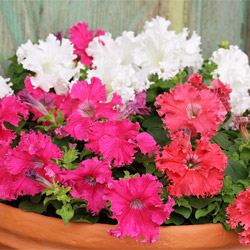 Novelty 2012-2013
As we know from Greek mythology, the goddess of beauty and love Aphrodite was born from sea foam. The new varieties are named in honour of her. The edges of the flowers are rippled in memory of this divine birth, as if rippled by the sea from which the goddess emerged.
A group of new hybrid varieties with rippled and fringed flower edges. A resistant, well and exuberantly growing varieties. Can also be successfully grown in worse climatic conditions. The plants are bushy and grow to a height of 35 cm. Flower size is 8-9 cm.
Can be grown in flower beds or in boxes. If planted in a window box, they create a slight overhang. The plants flower abundantly.
E446 Aphrodite F1 White

E447 Aphrodite F1 Salmon

E448 Aphrodite F1 Rosy
E450 Aphrodite F1 Purple
(Novelty 2015)
Deep purple blossom with a diameter of 8 to 9 cm with markedly wavy and fringed edge.