Original breeding by the Černý Seed Company
Both varieties are supplied in pellet form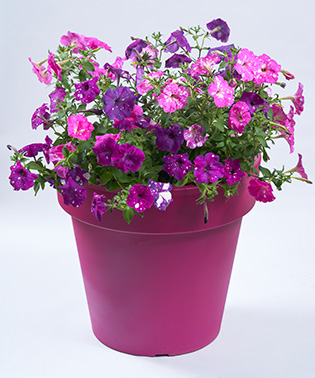 "DOT STAR F1" SERIES
The infinite universe and all of its mysteries, a star-filled sky, or simple joy and a good mood are some of the things which could be evoked by these unique hybrids from the newly introduced Dot Star F1 series thanks to their unusual and provocative appearance.
A combination of vibrant and rich colours with white dots or spots on the petals gives the flowers an unprecedented and highly attractive appearance. The shape, frequency and intensity of the little white patterns on the petals can change during hot or changeable weather. This makes every flower a unique original.
Just like the other multiflora petunia from the Černý Seed Company, the Dot Star F1 series also boasts a high level of resilience to bad weather.
Plants grow to a height of 30–35 cm, branch well and bloom abundantly, with flowers that have a diameter of 6–7 cm. They are suitable for beds, planters and pots. They quickly regenerate after heavy rain and regain their impressive appearance.
11–13
weeks
6–7 cm
30–35 cm
flower pots /
beds
pellets
E339 Dot Star F1 Dark Violet
dark violet with white dots and spots
E340 Dot Star F1 Deep Pink
deep pink with white dots and spots